You might have noticed that I haven't blogged in a few weeks, but I'm here to tell you there's been a reason for that: I got a dog! I've been extremely busy with my new pet and haven't had any time to tend to the blog. Let me tell you about him:
About a month ago I spotted a little black dog running around our neighborhood unattended. I tried to get him to come to me, but he was super scared and bolted away as fast as he could. Over the next few weeks, I saw him now and then, but each time he ran away from me. I started putting bowls of dog food and water out for him, hoping he'd learn to trust me.
Unfortunately, the only thing he learned to trust was that he could get a free meal over and over again at my house, which most likely contributed to his decision to start living underneath my deck.
I couldn't get him out from under there no matter what I did, so I called the SPCA. Someone came out and set a trap for him; all I wanted to do was see if he was chipped (he had no collar) and get him back to his family. But that stinker managed to trigger the trap, eat the bait positioned INSIDE the trap, yet somehow escape its clutches.
Now I personally have not seen the dog since the Great Escape, which was a couple of weeks ago, but neighbors have told me they've spotted him around my yard. I've continued to leave food and water out for him, and by morning, it's gone.
I have wanted a dog for quite some time, but due to circumstances beyond my control (psst, my husband) I was unable to adopt one. But don't you see? Now I finally have a dog! Sure, I don't get to play with it. Or pet it. Or even see it, but I have a dog nonetheless! For some reason my husband named it Frenchie, which is a really stupid name, but it stuck. I would show you a photo of him, but I don't have one. Here is a stock photo in its place: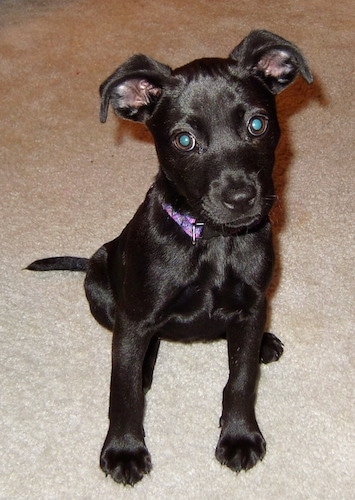 Isn't he adorable??
But honestly, when it comes down to it, I'm not even really sure if I'm feeding the dog anymore. I might just be feeding a possum every night. I guess I might have a pet possum.