Happy Halloween! In honor of today, and because I am stumped and need help figuring out what the hell is going on in my house, I'm going to relate what happened to me a few days ago.
So house construction is still going on and that means there is dust EVERYWHERE — on tables, floors, windows, you name it. I walked into our dining room/makeshift kitchen a few days ago, and saw this:
No, I did not see a giant highlighted yellow square on the window. I saw what was inside, which is the letter A surrounded by a circle, traced into the dust on the windowpane. My one kid was there and I asked him if he did it. He said no, and that my other kid, a big Marvel fan, had done it because it was clearly an Avengers A: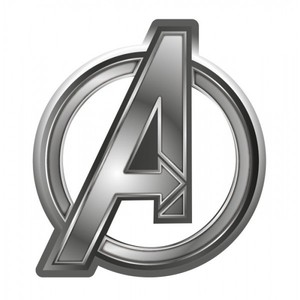 Later that afternoon, I asked my other kid if he did, in fact, do it. He proceeded to freak the eff out, denying having done it and saying it was all a set up. I was all, "Dude, you're not even in trouble. I was just wondering who did it," and we all calmed the hell down.
Later that night, I asked my husband if he had done it, because he likes to mess with me and be featured on the blog. He claimed that he did not. Somebody was lying…unless…
The next day, I gathered all of the construction guys together and asked if any of THEM had done it, pointing to the window. Denials, all around. I even told them nobody was in trouble and they could just come clean. Again, no one fessed up.
I am totally stumped. I have no idea who traced the A there, what it means (The Scarlet Letter? Anarchy? A sign either dooming us or saving us from an upcoming End of Days??). If anyone has ANY information, please come forward. I promise you will not get in trouble.
Polling time: